Gatotkaca build - Mobile Legends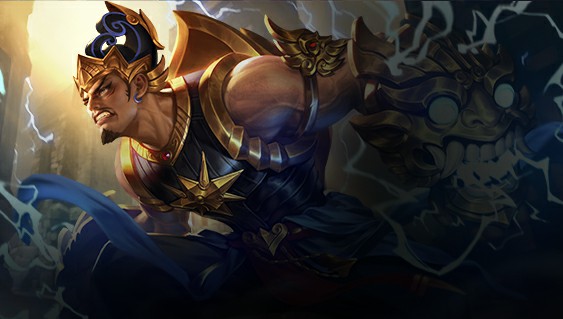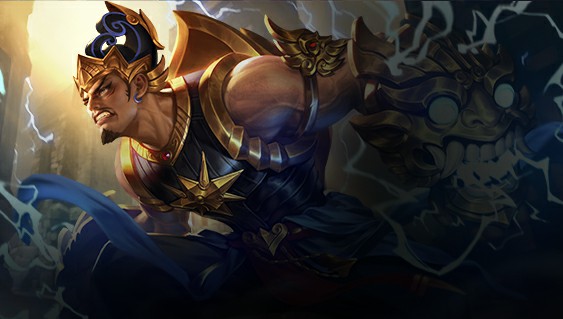 Gatotkaca build ML Hero
Tank
Durability
Offense
Ability Effects
Difficulty
Leveling skill gatot dapat disesuaikan dengan berbagai situasi. Jika Anda ingin bermain tipe Poke/Push, maka max Skill 1 terlebih dahulu. Jika Anda lebih memilih bertahan atau menyerang kembali dalam menghadapi lawan bertipe Melee, maka maksimalkan Skill 2.
Naikkan Ultimate bila tersedia.
Priority Skills and Spell


Gatotkaca Skills
Blast Iron Fist
Passive Skill description
Gatotkaca slams the ground, creating a shattered zone in the target direction while dealing 200( +150% Total Magic Power) (Magic Damage) to enemies within. Enemies in the shattered zone will take 100( +20% Total Magic Power) (Magic Damage) per second and be slowed by 30%.
Hero Gatotkaca build
Cursed Helmet
Unique Passive - Burning Soul: Deals Magic Damage equal to 0.8% of hero's Max HP per second to nearby enemies. This damage is increased by 150% against minions.
Tough Boots - Dire Hit
Unique Passive - Passive - Dire Hit: Success
Immortality
Unique Passive - Immortal: Resurrects in 2.5s after death and gets 16% HP and 220~1200 shield that lasts for 3s. (Scales with hero level) This effect has a CD of 210s.
Oracle
Unique Passive - Bless: Raises shield absorption and HP regeneration effects by 30%.

Dominance Ice
Unique Passive - Arctic Cold: Reduces the Shield and HP Regen of nearby enemy heroes by 50% (excluding those affected by "Life Drain"), and their Attack Speed by 30%.
Guardian Helmet
Unique Passive - Recovery: Regenerates 2.5% Max HP per second (reduced to 0.5% Max HP per second over 5s after taking damage).
Gatotkaca Game Play Tips
a. Warrior Boots
a. Warrior Boots
Sepatu ini sangat berguna untuk menahan serangan lawan karena menambah 22 Points Armor, serta mebambah kecepatan Gatotkaca dan juga skill pasif nya yang menambah pertahanan fisik Gatotkaca.

b. Immortality
Item ini menambah 800 HP serta 40 Magic Res, dan item ini spesial karena dapat bangkit setelah Gatotkaca mati setelah 2 detik kematian dan mendapatkan HP serta Shield yang menyerap 300~1000 Points dari serangan. Shield bertahan untuk 3 detik dan cooldown untuk efek ini 180 detik.

c. Cursed Helmet
Item ini menambahkan 920 HP serta 50 Points Magic RES, pasif nya yang memberikan 1,5% dari Max HP sebagai Magic Damage ke musuh terdekat dan memberikan tambahan damage ke minions membuat Gatotkaca mempunyai serangan yang tidak lemah sebagai tank.

d. Dominance Ice
Item ini menambahkan 500 Mana, 70 Armor, 5% Crit Chance Reduction serta Cooldown Reduction hingga 15% dan melemahkan kecepatan lawan sebesar 5% serta kecepatan serangannya sebesar 30% juga.

e. Bloodthirsty King
Item ini menambah 1500 HP dan Regen 20% HP dalan 5 detik ketika membunuh atau membantu membunuh lawan

f. Oracle
Item ini menambahkan 850 HP, 36 Magic Res, 35 HP Regen, 10% Cooldown Reduction, serta pasifnya yang dalam 4 detik setelah diserang, Hero akan regen 8% HP. Efek ini memiliki 6 detik waktu Cooldown
Best Teammate for Gatotkaca

Aurora
Tips: Aurora memiliki Skill yang bisa melakukan CC Area secara instan yang membantu Anda untuk memulai Skill Ultimate. Bisa juga Anda menggunakan Skill 2 untuk mengunci lawan kemudian Aurora dapat menghabisi lawan dengan Skill Ultimate-nya.
Gatotkaca can counter this hero during the game
Roger
Tips: Roger adalah Hitter yang luar biasa. Saat War mulai, pastikan untuk membuat Roger menyerang Anda kemudian sekutu Anda dapat menghabisi Roger.
Gatotkaca should be carefull with this hero
Karina
Tips: Gatotkaca memiliki Armor yang sangat tinggi.
Tetapi itu tidak ada gunanya apabila Anda diserang oleh Karina. Serangan Karina memberikan Magic Damage serta memiliki Penetration yang tinggi, sangat mematikan bahkan untuk Gatot sekalipun.
Show More Gatotkaca Builds, Guides, and Stats
Learn This hero Next
115 MLBB Hero List: Mobile Legends Bang Bang Latest Patch
Win More in Mobile Legends
www.mlbbhero.com is the website and platform to go for all mobile legends guides, tiers, strategies, and statistics. We are your MLBB guide from the land of dawn, assisting players of all skill levels in improving and reaching supremacy.