Zilong build - Mobile Legends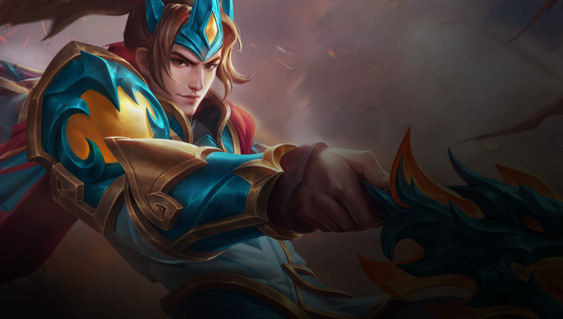 Zilong Skills
Spear Flip
Passive Skill description
Zilong flings the target enemy over his head, dealing them 250( +80% Total Physical Attack) (Physical Damage).
Hero Zilong build
Scarlet Phantom
Unique Passive - Frenzy: Crit hits increase the hero's ATK Speed by 30% and Crit Chance by 5%. Lasts 2s.

Warrior Boots
Unique Passive - Valor: For each Basic Attack received, gains 5 extra Physical Defense (up to 25) for 3s.
War Axe
Unique Passive - Fighting Spirit: Dealing damage to enemies grants 10 Physical Attack and 2 Physical Penetration per second for 3s, to a max of 8 stacks (Marksmen/Mages/Supports only receive 3/1 of these stacked effects)
also grants 15% Movement Speed at full stacks.
Haas's Claws
Unique Passive - Insanity: When HP drops below 50%, the hero will receive extra 15% Physical Lifesteal.

Berserker's Fury
Unique Passive - Doom: Crit hit will increase the hero's Physical Attack by 5% for 2s.

Blade of Despair
Unique Passive - Despair: Attacking enemy units that have HP below 50% will increase hero's Physical Attack by 25%. Lasts 2s. (Takes effect before damage is dealt)
Zilong Game Play Tips
This set has amazing CD recovery times. Allows Zilong to use his ultimate more frequently. Also has a high potential in assisting teammates more. Dominance Ice for physical defence and Magic Blade for magical defence, along with a shield effect. Can run with ease or turn on enemy with ease.
Best Teammate for Zilong
Eudora
Tips: Zilong's first skill can flip enemies back to Eudora, allowing Eudora to release her full damage potential.
Zilong can counter this hero during the game
Yi Sun-shin
Tips: Heroes without displacement skills are very vulnerable to Zilong's skillset.
Zilong should be carefull with this hero
Alucard
Tips: It's very hard for Zilong to beat these heroes in 1v1 battles.
Show More Zilong Builds, Guides, and Stats
Learn This hero Next
115 MLBB Hero List: Mobile Legends Bang Bang Latest Patch
Win More in Mobile Legends
www.mlbbhero.com is the website and platform to go for all mobile legends guides, tiers, strategies, and statistics. We are your MLBB guide from the land of dawn, assisting players of all skill levels in improving and reaching supremacy.